<!font face="Arial MT Black" color=#000000 size=4>
<!/font>
<!A HREF="http://www.gumtree.com/vauxhall"target="_blank"> <!due 30/4/13 oscar.casco@caliberi.com Now Aaron: contact@caliberi.com Vauxhall cars not renewed>
For Sale
1965 Holden EK

Front view

Back view

Engine Bay

Interior

Too good to scrap and would make a good donor car
or provide the basis of a nice Rod

Open to offers

It's missing the engine/hydromatic gearbox/front bumper and headlights
plus a few bits of trim. Its been in store for 30 years
and would need a fair bit of welding to the boot
floor and footwells.
There is no paperwork or history with the car,
but there are a number of spares in a box in the boot
and also spare front and back screens.
Located in Tetbury, Gloucestershire

Contact: Adrian.
Phone: 07837933143
adrianmidgley@live.co.uk
For Sale
Two Commodores
<!font size=-1>

1990 Calais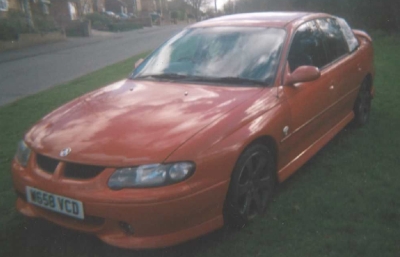 2000 Commodore VT

&pound2500 Each
Located in Watford.
For full details contact Pete Walters
Phone: 01923236252

For Sale
Holden Commodore/Calais Parts Catalogues
Index

Illustrated and Text catalogues
Covering 1979-1985

&pound20 the pair

Collect from Chessington or postage at cost

Contact: Ken Garner.
Phone: 0208 287 4932
dkg@ndirect.co.uk



For Sale
2002 Commodore Berlina II
Commodore Berlina Series II, 3.8 V6, auto, Mexican Red. This car has been owned by myself from new and was imported to UK when I returned from working in Australia. In really exceptional condition, with a genuine 43,000 km, the car has been regularly serviced and has been kept garaged. It is fitted with alloy/sports wheels, spoiler and Reece Hitch tow bar and was undersealed from new (not standard in Western Australia)



Offers over &pound5000

The car is currently on SORN but will be sold with full service and 12 months MOT.
The car can be viewed in Norwich

Contact: Malcolm Newman.
Tel: 07762736836
newman_malcolm@hotmail.com



HD Restoration Project


Bought to restore about 10 years ago; It would suit someone who likes doing bodywork! It comes with new points, rotor arm, distributor cap, oil filter and workshop manual, It's never been registered in this country. There's quite a lot of spare brightwork in the boot, as well as a spare steering column and front/rear glass. The car is located in Edinburgh.
Offers.
Contact: Derek Coghill derekcoghill@yahoo.co.uk
Holden parts for sale

Registration Plate V80 LDN
&pound1250 ono
COMMODORE VK (1984-1986) Windscreen - New old stock, blue tint top - &pound150
Pair of headlights - NOS &pound60 ono
New Bosch Starter VL to VS - NOS, but marked with storage - &pound100
Pair of front hubs, probably VN or VP - &pound20
Contact Darren: 0778 555888 d.duesbury@btopenworld.com
For Sale The Club has a number of copies of this Commodore book for sale. This 9in by 12in book has 252 illustrated pages and was published in 1999. Our price is just &pound8, with postage at cost (Standard parcels within the UK is approximately &pound6) Contact the Club for more details or to buy a copy.Contact:
Holden UK Register

<!blank jpg used to expand space for text - do not remove>
<!a href="http://sm3.sitemeter.com/stats.asp?site=sm3commodore" target="_top">